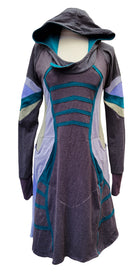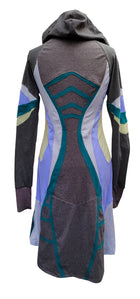 Description
This is a one of a kind dress made using 100% upcycled t-shirts. The Grace dress is a combination of feminine curves and powerful geometric styles lines. This piece feels like a complete outfit from head to toe as it has a hood, pockets and much more length than a typical Flood dress. The Grace dress is form fitted through the bust and upper waist and flows out and down to calf length. The style lines of this piece are designed to compliment and flow around your natural, beautiful form.

The colors of this piece are: Charcoal grey base; with deep teal, light grey, periwinkle, sage green accents.

Mediation for this piece: Grace is some of the most powerful magic in this world. If we can bring more grace to each of our moments, how would the world be transformed?

*Please note that when ordering this dress~ your special piece will be very similar, but will have slight differences as each dress is one of a kind*