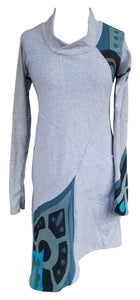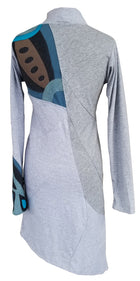 Description
This is a one of a kind dress made using 100% upcycled t-shirts. The Align dress is the first form-fitting dress to come from Flood studios in many years! She is fitted from top to bottom with a little bit of give room through the lower hips. This sweet honey is fierce and powerful in her asymmetric styling. The front and back shoulders feature a patch made by layering several t-shirts, stitching and cutting away fabric to create a reverse applique. The lower front hem dips down into a point on the right side, which helps create the shaping of the applique design. The back hem also comes to a point and becomes a shorter skirt on the left side of the dress. There is one hidden pocket on the front dress. There is a patch on one lower sleeve and the other sleeve is solid in color. Align has a brand new style of neckline - a soft, raised overlapping v-neck.  This dress is for standing out in full glorious confidence!

The colors of this piece are: Light grey base; with dark teal, light teal, dusty teal, dark grey and taupe accents.

Mediation for this piece: Can you Align yourself with your life's purpose in some small way, everyday?

*Please note that when ordering this dress~ your special piece will be very similar, but will have slight differences as each dress is one of a kind*