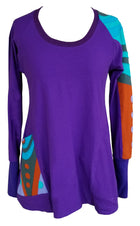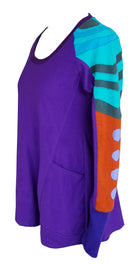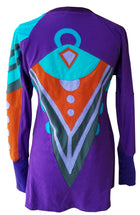 Description
This is a one of a kind tunic, made using 100% recycled t-shirts. The Channel Tunic might the most comfy, epic tunic to come from Flood studios. Fitted through the arms and bust only, this tunic falls naturally from the bust into a flowing fit around the hips. There are two pockets on the front tunic, one of which features a gorgeous layering design. The neckline is in the perfect scoop shape. The left arm and back feature super powerful shapes and colors in hand-created inset appliques. The Channel Tunic is the perfect hybrid of comfort combined with dynamic design and elegance.
The colors for this one are: True purple base; with forest green, burnt orange, turquoise, lavender and light teal accents.

Meditation for this piece: We are all Channels through which the universe expresses itself. How do you care for your unique channel? Are you keeping your channel clear so that you can share your special gifts with the world freely?
*Please note that when ordering this tunic~ your special top will be very similar, but will have slight differences as each top is one of a kind*