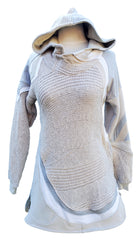 Description
This is a one of a kind tunic made using 100% recycled sweatshirt, sweater and t-shirts. The Duality Hoodie Tunic is a beautiful landscape of swerving lines and intricate shapes. The shoulders, and lower hem are made in sweatshirt fabric to give this style crisp structure. But the body of this piece is made in soft, stretchy sweater- so that around all those curvy spots there is a soft, flowing fit. There are two pockets along the sides of this piece. The sleeves feature asymmetric designs, as well the hood has an asymmetric overlapping collar shape. The fit of this piece is a slightly oversized hoodie. It has some fitting through the bust but the rest of it is a relaxed fit. The Tunic-style length in the front comes to the mid-thigh. There are side slits, then the length in the back is two inches longer than the front. There is so much connectivity of the style lines from body to sleeve, and body to hood. Look closely...

Meditation for Duality: Much of life is dualistic in nature. We can't be fully happy with knowing sorrow. We can't be fearless without having known fear... Can you embrace the opposites of life to experience wholeness?
The colors for this one are: sandstone, beige, cream and taupe.

*Please note that when ordering this tunic~ your special top will be very similar, but will have slight differences as each top is one of a kind*