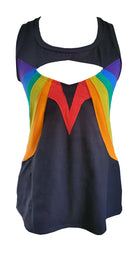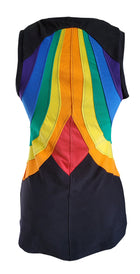 Description
This is a one of a kind tank top, made using 100% recycled t-shirts. The Lens Tank isn't your basic piece! This highly detailed and structured piece can be worn in casual and dressy ways...
The scoop neck sits up a little higher to accommodate the diamond cutout that sits right on the upper chest. The front applique creates a beautiful and powerful dynamic across the chest as it lands perfectly between the bust. All of the style lines connect from front to back, creating a gorgeous color cage design that wraps across the chest, sides and up the back of this piece. The Lens Tank is fitted through the bust and then loosens us as it flows across the hips and tummy. There's some slight rounding on the front and back hemlines.
The colors of this piece are: A black base, with rainbow accents.

*Please note that when ordering this tank top~ your special top will be very similar, but will have slight differences as each top is one of a kind*