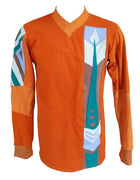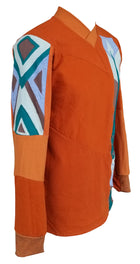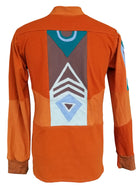 Description
This is a one of a kind, pull-over men's shirt, made from 100% upcycled t-shirts. It features a brand new style for Flood Clothing: an overlapping V-collar. This collar comes just to the base of the front neck, so it doesn't sit too high up. The front features on off-center geometric patch that is hand-created using many layers of t-shirt that are stitched with shapes and cut away to revel deeper layers of color and design. There is another inset on the side arm and one on the center back of this piece. This futuristic, space traveler-inspired design, is elegant, powerful and eye catching.

Meditation for Reflection: What do you see when you look out into the world? You are being shown a reflection of your very own self. Are you in love with what you see?
Colors of this piece: Burnt Orange base, with mint green, baby blue, taupe and deep teal accents.

*Please note that when ordering this shirt~ your special one will be very similar, but will have slight differences as each shirt is one of a kind*