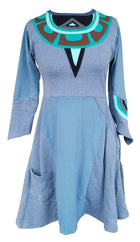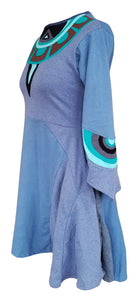 Description
This is a one of a kind dress made using 100% upcycled t-shirts. The Unlock dress is the essence of female power! She is fitted through the bust and natural waistline and from there flows into a full circle skirting. The front hem of this dress is indeed slightly shorter than the back hemline. There are two hidden pockets on the side skirting. The front neckline sits up higher, just above the collarbone and features a gorgeous chest piece. This chest piece applique is hand created using several layers of t-shirt and stitching to create a reverse applique. There are more of these appliques on the back upper dress and one sleeve. The sleeves are just slightly longer than 3/4 length and come to a point at the sleeves edge. The Unlock dress is elegant and playful all at once!

The colors of this piece are: Light denim blue base; with black, brown, dark teal, light teal and dark grey accents.
Mediation for this piece: Explore and get to know your own heart. Unlock the secrets of your heart's desires. Listen to the wisdom contained within each heart beat.
*Please note that when ordering this dress~ your special piece will be very similar, but will have slight differences as each dress is one of a kind*