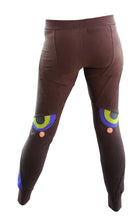 Description
This is a one of a kind pair of leggings made from upcycled athletic pants and cotton-spandex t-shirts. The Clarity leggings are asymmetric- with gorgeous geometric insets on the left front leg. The other leg is a solid color on the front leg. Both of the back legs feature a symmetrical inset that falls right where the calf begins. The neatest thing about that back leg inset is that when you walk, these eye-like patterns appear to blink!

Colors of this pair are: Brown base; with chartreuse green, dark grey, salmon and purple accents.

Meditation for Clarity: If we cultivate a greater sense of clarity within; clarity of our wants, desires, goals, feelings and awareness... How does this transform the way you see the world? Yourself? Others?
*Please note that when ordering this pair of leggings~ your special pair will be very similar, but will have slight differences as each pair is one of a kind*