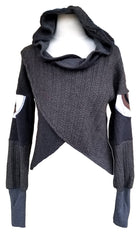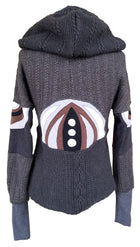 Description
This is a one of a kind hoodie made using 100% upcycled sweaters, t-shirts and cotton-spandex leggings. The Origin hoodie is the PERFECT layering device! Featuring crossover style lines on the front that create a V-shape that hits beautifully on the tummy. The hood is a deep raised cowl, lined with t-shirt. This makes the hood super cozy and gives great structure to the neckline. The back of the Origin hemline comes down to a point giving that great style too.The sleeves and back hoodie feature geometric insets that are created by layering t-shirts, stitching in shapes and cutting away fabrics to reveal deeper color and designs. This piece is great by itself for a cozy, cropped style. It is also created to wear over other pieces, giving you the ultra layered look.

The colors for this one are: Charcoal grey sweaters~ with white, light grey, black and brown accents.

Meditation for Origin: Revisit your origin story. What knowledge comes from your origins? What are you still carrying with you today? Integrating our origin story allows us to embody its wisdom and share it with others.
*Please note that when ordering this hoodie~ your special top will be very similar, but will have slight differences as each creation is one of a kind*