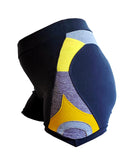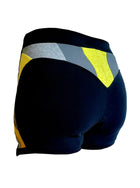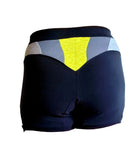 Description
This is a one of a kind pair of high-waisted shorts made using 100% upcycled clothing. They are a blend of cotton and poly spandex, making these stretchy and comfortable. These sweet, ultra flattering shorts are the ideal summer wear garment for being active or just being. The waist band sits about an inch above the belly button. The length of the short is a few inches long, so these are not super short shorts. As the sizes get bigger the short length gets longer...
The best part of these shorts are the style lines that give any booty and lift and shape. Using color and style lines to create the illusion of a perfect, heart shaped bum.
The colors for this pair are: A black base with varying shades of yellow and gray accents.

*Please note that when ordering this pair of shorts~ your special pair will be very similar, but will have slight differences as each pair is one of a kind*